I can't say enough about the great momma's over at the
Crunchy Congo
. They have sew much talent among them, that I really feel inadequate to be honest. And I feel that I am a great crafter! So that says a lot.
October 1st is the grand relaunching of the site, and let me tell you, if you go over there to see what is being previewed, you will not be disappointed! There is something for everyone, I think. Well, we might have forgotten Daddy this time, but that is only because the theme of the month is "Mommy and Me" - great items for mommy and child OR made by mommy and child!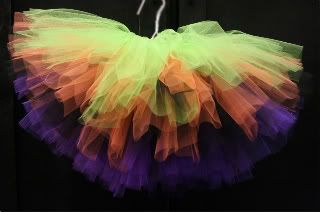 If I had to pick one as my favorite, I would pick the tutu/AI2 combo! I am a tutu maker and I just adore this tutu! Nacho Dipes and her step-mom did the combo and I doubt that it makes it through the day before it's snatched up by someone!
If you have the time, head on over there and look at the great things to be purchased. I even will have a few things up soon :)